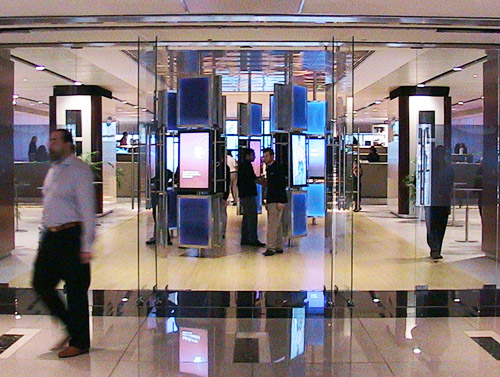 The Samsung Experience
The Samsung Experience was a revolutionary leap in retail. One could interact with products and get helpful advice but no products were sold at this location
Interactive installations were incorporated to demonstrate that Samsung was
forward-thinking and valued engagement. All exhibits utilized Samsung products.
Time-Warner Bldg.
Interactive installation for the Samsung flagship store in the Time-Warner Bldg, Manhattan, Columbus CircleWrite here...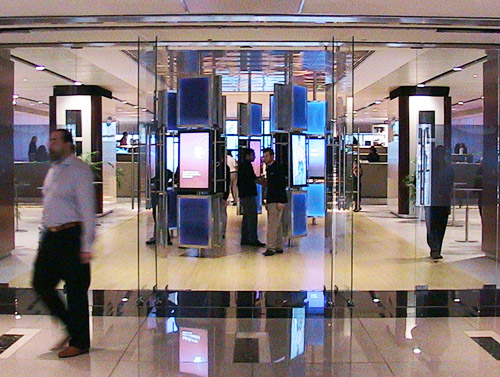 Speakeasy
'Speakeasy' was the front and center interactive installation of the flagship Samsung Experience in Manhattan which ran from 2004 to 2007.
Quasi-3D Interactive Display System
It was a quasi-3D interactive display system based on my thesis for Parsons. Visitors explored a secret virtual world of fashion and technology revealed only through interaction.
Interaction
On a vertical axis (steel pole) LCD screens are hung with handles mounted on either side. By grabbing the handles and rotating around the axis, the viewer is moving 360 degrees around the content for a quasi-3D experience.
Content
Each pole consisted of a fashionably dressed character interacting with a Samsung product. Two characters played the role of musician, playing in the 'Speakeasy'.
Narrative
By moving around each character, the user discovers that they can see other characters in the background of the pole their are interacting with. The other characters correspond with the poles as they are located in the space.
By moving to each of the poles, the user discovers they are in a virtual room. A virtual speakeasy of style and technology.
Content
Content was changed approximately every year and made use of the system in multiple ways.
Medical Proposal
This was a proposal that used the quasi-3D system to explore and communicate medical, commercial, and informational content.
Here, a spinal condition called Ankylosing Spondylitis is resolved through treatment in one 360 degree turn.